Cloud CRM Solutions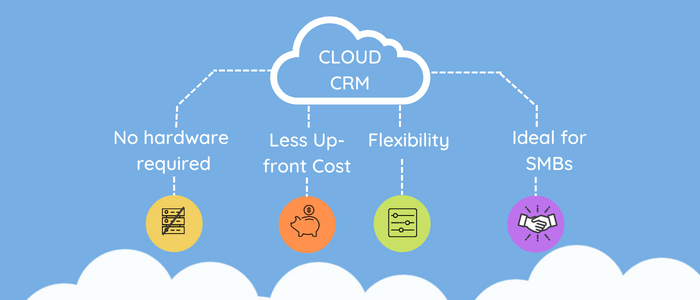 Customer Relationship Management or CRM, as we know better, is the process by which you market, sell and provide service to customers. It is often referred to as an online, web based, hosted, internet based or even Software-As-A-Service (SaaS) CRM software application system.
Time has made it imperative for industries to migrate to cloud based, or hosted CRM software- and this has been always beneficial for them. There are multiple reasons for this-
1. No hardware purchase required hence, least up-front cost
2. No special infrastructure needed to be maintained
3. Software can be accessed from any where, any device, any time
4. Fllexibility of the system
5. Best for Small and Medium scale industries

Cloud based CRM is easy to operate and maintain. Especially SMEs look forward to increase efficiency in their working operation by adopting cloud based CRM.

Major feature of cloud based CRM is that the entire system is maintained by the provider, so the user does not have to worry about maintenance costs. Moreover the CRM provider also takes care of timely updates.

Cloud CRM is the best choice if you are looking to purchase a complete secure CRM application to manage customer relationships, and yet want to avoid the high costs and system complexities of implementing the traditional solutions. Cloud based CRM solutions are location and computer independent, thus making them the ideal choice for small and medium scale industries.