Hosted CRM Vs On Premise CRM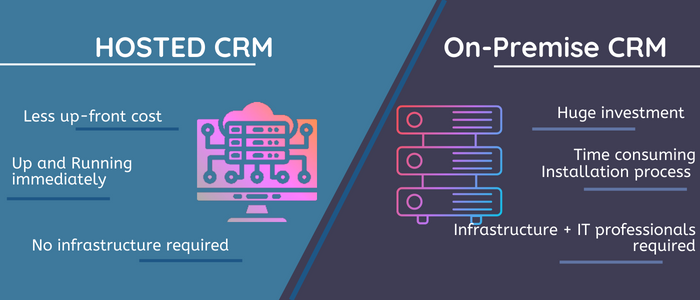 Fundamentally, this model relates to buying a house over renting an apartment. With the On-premise CRM Solution, the business is buying a house and thus retaining the ownership. Alternatively, when you rent an apartment, you pay the landlord a monthly fee which is Hosted CRM.
Major benefit of Hosted CRM is its 'Time to Value'. A business could have a CRM system up and running on the same day when the purchase is made. Also, you would not need any IT staff to maintain the CRM system nor you would need to buy specific hardware or upgrade your system configuration for Hosted CRM. Everything will be handled and maintained by the CRM provider as part of the monthly fees. The costing will be based on the licensing or per user wise which is far less than the cost you would invest in buying On-premise CRM. Definitely the drawback here is not to have the ownership of the system. Though you own your data which is at the server space of what is provided, you do not have control over the infrastructure behind it. There is certainly risk as things are not in your control. For those who need extensive customization, hosted CRM is not the option. Hosted CRM solutions are location and computer independent, so small business CRM users are free to use their CRM tools anywhere, any time.
On-Premise CRM provides flexibility in customizing the functionalities as you would like. It gives a business full control over every bit of data. Large companies choose this method for its integration enhancements or its level of security and control. The largest drawback of On-Premise CRM are the up-front costs. The per user cost is substantially higher than that of the Hosted solution. Businesses may begin to have savings within a few years. If you take costs over a longer period, such as 10 years for example. Keep in mind that this option still requires application maintenance, services, upgrades as well as the hardware infrastructure. Also requires IT staff to manage the whole application.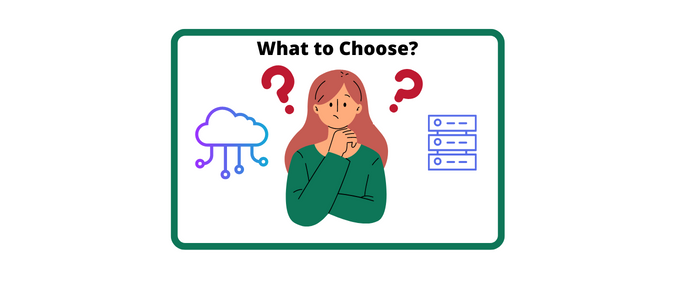 What to Choose?
Considering the above grounds, ultimately you have to choose the type of CRM that will work best for your business, both from the point of process and finance. Whichever you choose, spend the time doing the homework. Understand and analyse your business process and compare the CRM products to see which suits your business type. This will make your decision much more rewarding to your company.
To add in, nowadays you will hear mostly about Hosted CRM. Thats because Hosted CRM softwares are on the rise and is accessible from anywhere in the world which makes it more beneficial for businesses.