How can a software help manage leads efficiently and automate the process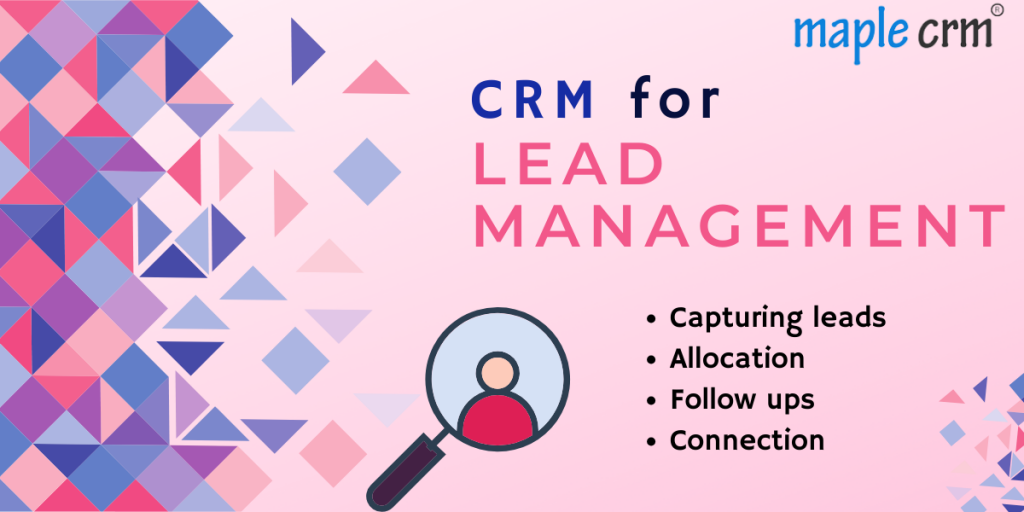 Lead generation, management and conversion are the basic stages of any business, be it a startup or a well established enterprise. Lead is the basic input required for a business to turn its wheels and go ahead.
WHY IS LEAD MANAGEMENT SO IMPORTANT?
Simple answer- You can manage only what you can keep an account of.
Consider you have a constant stream of money coming in from various sources. Good thing to imagine, isn't it? 🙂 But still you face problems in money management, you don't know how and where you spent it, or wasted it, or simply you don't know how much money exists in your account. How can you manage if you are not keeping an account of it?
Leads are the Vitamin 'M' your business needs to run. It's not just a need, it's imperative to manage leads carefully and effectively.
Using spreadsheets and manual notes are bygones now- time to carve their pics on the walls. Not really the 'happening' way of doing business today.
Then how to manage leads effectively? – CRM (Customer Relationship Management Software) is the answer to it. What does a CRM do?
1. Auto capture of Leads
CRM software is equipped with the facility of capturing leads from social media platforms. Generically leads are captured from ads in Facebook, Instagram, Google ads, Websites, etc.
There can also be integration of CRM softwares with specific industry related lead generation software like IndiaMart, TradeIndia, Housing sites, JustDial, etc. These are the platforms most commonly used in India by businesses of all sizes and structures. If a CRM software is strong enough to cater these integrations, look no beyond! That's the CRM you're looking for!
2. Allocation of Leads
When you have a handful of leads, how are you going to juggle them all by yourselves? Too many juggling balls and just 2 hands- they're going to fall off eventually!
Here's where Lead Allocation plays an important role. The CRM software must be capable enough to support automatic lead allocation.
Allocation based on Round – Robin method: one by one leads will be distributed equally among the team members.
Allocation based on Expertise- team members proficient in certain subject matters can be allocated the relevant leads so that right inquiry goes to the right person who can handle it.
Allocation based on region- Leads from certain areas can be pushed to team handling that particular area. This helps quick connection with the leads- vocal for local!
5x – boost your business.
CRM software can boost your business productivity by upto 60%!!
3. Follow ups
Now that the leads are here, delivered to the respective team members- Time for the sales wave to kick in!
Calling up the prospects, gathering information, finding out the requirements, suggesting the best solutions, confirming visits wherever applicable- all are a part of the sales cycle. These stages should be well coordinated and no sales person should ever be accounted losing any lead just because of 'no follow ups'!
CRM software provides a dedicated feature for putting up of follow ups, relevant notes / remarks after each conversation and having the pop ups of the reminders on phone. This ensures no lead leaks and we are in touch with the prospects from time to time.
4. Connection with Leads
Building up quick connection with the inbound inquiries is the stepping stone towards business conversion. Quicker response ensures a professional image of your company to the prospects.
CRM software enables automatic first mails / messages to the prospects the instant the lead lands in the system. These mails can also be pre-drafted and stored so that the first connection happens immediately.
Rules can be set in a CRM software as to when a mail should be triggered, if any requirement form is to be sent through mail, it can be sent automatically.
Simply put, a CRM is the only solution for better, quicker and more effective way of lead management. Stop relying on manual methods for keeping a track of everything – let the software handle it for you!
Learn How Maple CRM proves to be best software for lead management.
Book a 1 to 1 demo session TODAY to know more how CRM software works!
Maple CRM is an all-in one software for lead and process management.
Customization of the workflow, dashboards and reports make the software a great analytical tool for insights on the business progress and lead inputs.
Connect with an expert on : +91 95389 25641 to have a quick chat over call / WhatsApp. Or Drop a mail on info@maplecrm.com www.maplecrm.com
Check more info on CRM software in our blogs-