Most often, small & medium businesses have their keen on one thing importantly – generating revenue. But this also means that others areas of the business process is sidelined.
You will be surprised to see that spending little time everyday on administrative tasks, planning, arranging, organizing, tracking, etc. can bring efficiency and productivity and ofcourse the increase in profits.
How can small business improve productivity?
The answer is CRM Software. Many of them assume that CRM software is only for large or enterprise organizations and not for small businesses. This was the case 2 decades ago and not anymore. CRM Solution now is an invaluable tool that can boost company's productivity, sales tracking, employee performance, collaboration, etc.
Most of the small businesses still tend to rely upon the age old spreadsheets but here are few of the benefits that a CRM software offers for small businesses.
Better Customer Relations
Increased Up selling and Cross Revenues
Effective Marketing
Increasing Profits
Improved Internal Collaborations
How CRM can boost productivity?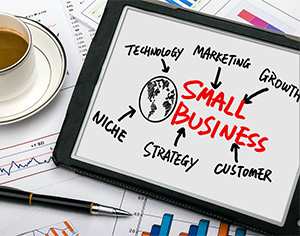 Control the Sales Process
With Sales Automation using CRM Software, your team can easily perform the sales activities helping them to win more deals. Additionally, CRM software acts as a monitoring tool making your team follow the process and letting you to check whether the work is accomplished and how it has progressed.
Organize Business Activities
Many of the times, your team misses the follow-ups or ends up calling the same customer that their colleague did. This can be totally avoided using a CRM software as the system takes care of collaborating your internal with team with the database and allowing them to update every interaction in the software.
Easier Reporting
It is important that the sales team sends proper reports on their sales and activities to their management on timely manner. But the fact that your sales team spends more time in reporting than their actual work remains true. CRM solutions comes handy here as it records every call and interactions of the customer and that is stored in the database for easy retrieval anytime. Your sales team can download the report at the end of time or the management can fetch the report themselves making the work process easier.
Priority based Customer Targets
With multiple deals and customers to work, is your team making proper follow ups with potential customers? Enable your team to identify the targeted leads to reach out to them for sales. Many automated sales systems, lead scoring techniques enables this helping in easier segregating and targeting sales leads.