Maple's calendar is something very useful in our store for people who want to organize their activities. The calendar helps you to plan your work and organize accordingly.
With Maple CRM's calendar you can see what all schedules are assigned to you on specific dates and being the owner or team leader you can monitor your employees schedules as well.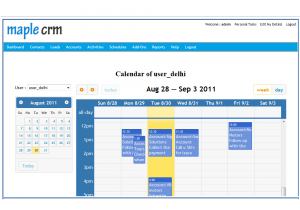 You can view the customer activities and details by clicking on the schedule. We believe that this feature would help to plan your days and week according to your availability.
We are working on more exciting features. If you would like to get latest updates, follow us on Maple's Facebook page or Maple's Twitter profile.