Promoting websites through multiple ways? Do you have a streamlined and efficient process to capture your leads?
We may not always think of channelising the leads coming through website. The old or rather the traditional method is getting it through emails. Here are few simple yet the best ways to improve your conversions through website enquiries.
1. Build an effective web form:
Help your viewers submit the form easily which can consist of only the required fields and which is not too much complicated with questions where he has to invest more time.
2. Filter the Enquiries:
Enable easy filtering to ensure not every leads falls in your inbox. For e.g. if the enquiry is for sales, route it to the staff who takes care of business sales, likewise, depending on the location or region you can route it to your various staff.
3. Design matters:
Ensure that your form looks good. You can get your Website designer to build professional yet simple forms which can attract visitors to post their enquiries.
4. Integrate with CRM
If you have not yet subscribed for one, then it high time to start  using CRM and experience the results of managing leads efficiently. Already using CRM? Get your CRM integrated with website. Leads can automatically  get assigned to your staff based on location or department and you have someone to work on these enquiries instantly.
5. Create Landing Pages
Depending on the products and services you offer, you can build multiple landing pages which can be used for publishing in many social media and route it to your CRM. This will help greatly to focus more on your Sales objective and increase your conversion ratio.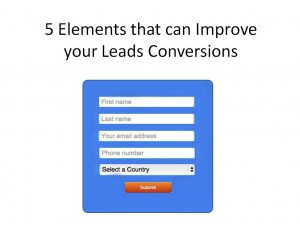 Sales is quite a tricky process. You need to keep evolving with the latest market methods to increase your sales. We have found the above elements to help in conversion rates. Would you like to share your thoughts on this article, you can write to us at info@maplecrm.com
We believe in making business process simpler!