Call Center CRM
Immense capacity to handle a huge number of calls, real-time logging of data for future reference and continuous inbound and outbound calling- just another day in the life of a call centre! A strong system to cater to this heavy capacity is essential for sealess performance of a call centre.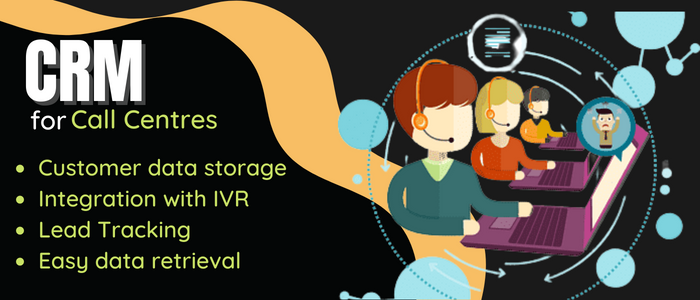 Customer centric CRM which provides great value to every-day functionalities and ultimately results into customer satisfaction, is proving to be the flag-bearer in call centre industry. Call Center CRM software collects the vital customer data and logs it securely. This data is vital to the call center and is retrieved on day to day basis. It helps them in giving a clear picture of the history of the customer being handled and enables them to give the right answers to customer queries, problems etc. Knowing the customer, their preferences, their purchase and complaint history etc all key in for better handling of the customer.
CRM provides the call center professional with valuable customer data providing him the information about the customers history before he even makes a call. He is thus in a position to know and understand the customer preferences. It enables customer databases to be kept up to date at all times.
CRM is used for follow up actions as well. After the initial call, CRM prompts for pre-configured, further actions. Thus it's imperative to the caller to punch in the data, without which they are not allowed to move forward, making sure no step is missed. CRM enables a call center professional to look at previous call details when there is a query. Lead management is also possible as leads can be identified and assigned to specified employees. This results in a considerable reduction in time loss.
CRM enables call center employees perform their duties easily and with less strain on account of its user friendly attributes. CRM also enables call center professionals and managers to prepare their reports speedily and with clarity.
With the integration of IVR(Interactive Voice Response) and CRM, Call Center companies are able to increase customer satisfaction by improving the customer self service capabilities and there by increasing completion of the customers interaction with the company. This also reduces the total cost of ownership of technologies. IVR and CRM can be used together to better handle incoming and outgoing calls.
IVR with CRM will allow companies to use customer data to offer consumers new sales opportunities through the telephony platform. In many cases, such systems can also be used to track consumer buying behavior to target advertisements further.