Standard CRM and Sales Reports
The standard features of a CRM solution could include: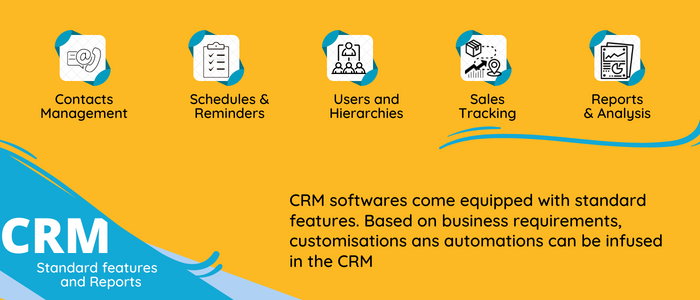 Management of contacts, leads and customers - complete contact details for anytime reference
Tracking of tasks and support - managing customer service and support
Schedules and activities - streamlining and handling the work related to the customer
A multi-user environment - users with permission level to log into the software
Automation of sales force and marketing - i.e. opportunity management, Sales Lead Management, Sales Process Management, etc
Email management - options to send and receive emails and keep track of it.
A wide variety of reports - Analytics and reporting options
Ability to customize according to any type of business - ways to customize it so that it can fit your specific type of industry.
Most of the standard CRMs provide the above mnentioned features. Depending on the type of business, high level automated CRM softwares which could include inventory management, Sales funnel management, field reporting options, billing and collection, purchase and order management, workflow management etc. can be opted for.
Sales reporting focusses on providing the details of the sales process and indicates the effeectiveness of the sales process- whther it is heading towards the right direction or not. This allows the top management to take timely measures and actions to achieve the results. This could even help the sales team to make comparisons and see what they have accomplished over the period of time.
A Sales Management Software can help in automating the process of generating reports for sales. With the use of Sales Management System, you could retrieve sales data quickly, view customized reports, check for better management of your sales activities and possibility to analyse the sales and call history.
Most CRM and Sales Force Automation systems have some built-in reports which provides quick access to many useful reports and there are customizable report options too which could be used to generate any type of report depending on your type of business.